Product Talk: Agile Development in Consumer Electronics
12/07/2018 (Fri) 08:00 - 10:00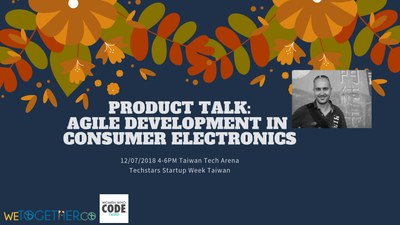 Event Information
Laurent Mealares - Team leader at Logitech
Bio:
At the early stage of my life, I embraced coaching, guiding people around me, as I feel joy seeing them successful in their own projects.
Involved in many students organizations, building teams, organizing events and socializing was part of my daily life. I've obtained my Master in Computer Science and Electrical Engineering in 1998 in France, while having a strong interest in human relations.
I've landed my first job in Switzerland at CSEM as an embedded SW engineer; There I developed passion for embedded systems, robotics, and mostly cross functional team work. Having worked on space telescopes, complex mechanics, broadcast systems, I've found a great company at Logitech a bit more than 10 years ago.
From Firmware development, system architect and scrum master; to now a management role; I had the fantastic opportunity to travel and work around the globe, meet a lot of fantastic professionals and learned a lot... Now in Taiwan since mid 2016, and still learning...
This is why I love to pass it on as well, and see you successful.
LinkedIn: https://ch.linkedin.com/in/lmealares
Abstract:
Changing a company's mindset from Waterfall to Agile model comes with a set of challenges. Especially in the consumer electronics where hardware development has to meet specific deadlines.
This presentation is about making the case for Agile development, explaining its basic fundamentals, and how it has been implemented within Logitech on a real case study. The talk would be focused on how product is made cross functionally and why agile development method could also apply for hardware startups.
Agenda:
4:00-4:10 Checkin(Light Refreshment would be provided sponsored by Techstars)
4:10-4:15 Startup Week Intro
4:15-5:20 Laurent's Talk
5:20-5:35 Q&A
5:35-6:00 Networking
This event will be in English. We will have an onsite translator to help.(這個活動是英文講者但我們有現場翻譯員會翻成中文)
本次活動免費參加,謝謝Techstars贊助舉辦。這個活動是台灣第一次的Techstars Startup Week Taiwan其中一場,更多有趣的新創活動請至:https://taiwan.startupweek.co/
This event is free and sponsored by Techstars. If you are interested to join more events during Techstars Startup Week Taiwan, please go to this website: https://taiwan.startupweek.co/
Closed