Open UP Summit San Francisco Outreach
09/09/2019 (Mon) 10:40 - 13:00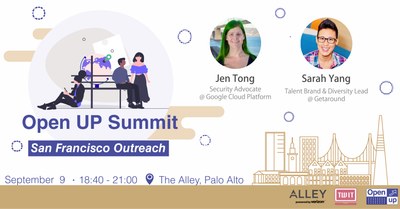 Event Information
Open UP Summit San Francisco Outreach is a networking event for people who are interested in open source and enjoy meeting new people. At this event we invited 2 speakers that are into open source and community building. We are fortunate to have Verizon to be our partner and sponsor for this outreach.
Topic: Unlocking Creativity Through Diversity
Speaker: Sarah Yang, Talent Brand & Diversity Lead at Getaround
Creativity is the #1 skill companies need most after LinkedIn analyzed hundreds of thousands of job postings. LinkedIn noted that it's because, "while robots are great at optimizing old ideas, organizations most need creative employees who can conceive the solutions of tomorrow." You'll learn how to unlock creativity through fostering inclusion, belonging, and equity on diverse teams.
Sarah Yang is the Talent Brand & Diversity Lead at Getaround, the global leading peer-to-peer carsharing company.
She is an award-winning film producer and writer with a 15+ year track record of creating videos and blogs that are popular and critically acclaimed. As a professional drummer, filmmaker, poet, and comedian, she's a creativity and diversity expert who's led workshops and given presentations for the past eight years at organizations such as Workday, Cisco, Oracle, Lesbians Who Tech, and CoderDojo with audiences ranging from 50 - 1000. Here's her ten minute creativity presentation at Cisco: https://youtu.be/fLe8sEn4DrE
Topic: PANOPTES: OPEN SOURCE EXOPLANET DISCOVERY
Speaker: Jen Tong, Security Advocate on Google Cloud Platform
Exoplanets are planets that orbit stars other than our sun. Until recently, exoplanet research has been the domain of professional scientists and large observatories. PANOPTES brings exoplanet science to students and amateurs. It combines cloud computing with low-cost, off-the-shelf electronics and open source software to build a geographically distributed array of robotic telescopes. In this session we'll explain how open source comes together with cloud computing to discover planets. We'll show you what PANOPTES is made of, how it observes the sky, and how it turns raw data into candidate planets.
Jen is a Security Advocate on Google Cloud Platform. In this role she helps developers and IT professionals stay out of trouble while getting the most out of cloud computing. If she's away from her laptop, she's probably skating around a roller derby track, or hanging from aerial silk.
Co-host: Jersy Huang
Sr UX designer but extremely bad at drawing, a startup victim who releases stress through playing hockey on the weekend.
Big thanks to our wonderful sponsor! We extend our sincere appreciation to our sponsor, without whom our event would not be possible. We invite you to support these community-minded company.
Our venue sponsor - The Alley Powered by Verizon
https://www.alley.com/coworking-offices/palo-alto


What is Open UP Summit?
Open UP Summit is the 1st tech conference organized by Star Rocket Foundation and WeTogether.co in Taipei, Taiwan, focusing on open source projects/products and bringing tech communities together. It will be hosted from 11/30-12/1 at Syntrend, Taipei. We aim to provide you a unique conference experience by integrating global resources and developing open sources products with guided and enjoyable processes. Open UP Summit is now calling for speakers and projects, more detail about this summit please check out: https://www.openup.global/
Location: The Alley Powered by Verizon
Language: English.
Light refreshments will be provided.
Closed