Open UP Summit Fukuoka Outreach
08/21/2019 (Wed) 10:40 - 13:00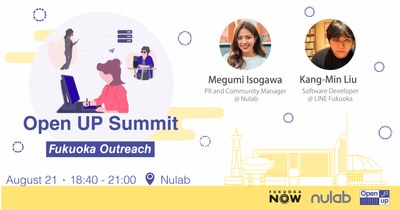 Event Information
Open UP Summit Fukuoka Outreach is a networking event for people who are interested in open source and enjoy meeting new people. At this event we invited 2 speakers that are into open source and community building. We are fortunate to have Nulab to be our partner and sponsor for this outreach.
Topic:
Open Community and Business Growth
ビジネスを加速させるオープンコミュニティ
Speaker:
Megumi Isogawa, PR and Community Manager, Nulab
Nulab Inc. was founded in 2004 by engineers from the open source community, and they have grown our business by connecting with the open community. Currently, their product "Backlog", a project management tool most used in Japan, has a user community.
In this session, Megumi will talk about their open community and business growth, as shown by Nulab's experiences.
ヌーラボは、オープンソースコミュニティに集まったエンジニアたちによって2004年に設立されました。設立以来、地域社会や技術コミュニティにオープンな状態で会社を成長させてきています。現在では、日本で最も使われるプロジェクト管理ツール「Backlog」のユーザーコミュニティも発足されています。
このセッションでは、オープンコミュニティとビジネスの成長について、ヌーラボの事例をもとにお話しします。
Topic:
Code Review With Robot
Speaker:
Kang-Min Liu, Software Developer, LINE Fukuoka
Doing code review is an important part of our daily work. How can we make the most of it ? How can we automate some of this ?
Kang-Min is a long term contributer of Perl/CPAN community. Trying to automate my automation.
Big thanks to our wonderful sponsory! We extend our sincere appreciation to our sponsory, without whom our event would not be possible. We invite you to support these community-minded company.
Our venue sponsor - Nulab
Nulab is a team of fun-spirited creators dedicated to creating software the improves team collaboration. With each application and feature we release, we aim to make the lives of teams better.
Since its founding in Fukuoka, Japan in 2004, Nulab has developed three collaborative apps — Backlog, Cacoo, and Typetalk. We've also expanded across the globe with offices in Amsterdam, New York City, Kyoto, Singapore, and Tokyo.


What is Open UP Summit?
Open UP Summit is the 1st tech conference organized by Star Rocket Foundation and WeTogether.co in Taipei, Taiwan, focusing on open source projects/products and bringing tech communities together. It will be hosted from 11/30-12/1 at Syntrend, Taipei. We aim to provide you a unique conference experience by integrating global resources and developing open sources products with guided and enjoyable processes. Open UP Summit is now calling for speakers and projects, more detail about this summit please check out: https://www.openup.global/
Location: 日本〒810-0041 福岡県福岡市中央区大名1丁目8−6 HCC BLD
Language: English.
Light refreshments will be provided.
Closed