Open UP Summit Singapore Outreach
08/29/2019 (Thu) 10:40 - 12:40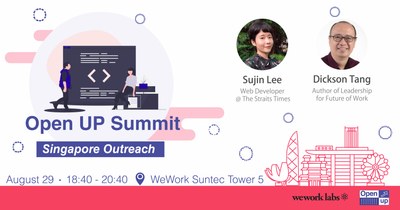 Event Information
Open UP Summit Singapore Outreach is a networking event for people who are interested in open source and enjoy meeting new people. At this event we invited 2 speakers that are into open source and community building. We are fortunate to have WeWork Labs and NuSpace to be our partner and sponsor for this outreach.
📍Topic: Singapore Street Visualisation with Open Data
📍Speaker: Sujin Lee, Web Developer at The Straits Times 🔎 str.sg/sgstreets
Recently, The Straits Times Interactive Graphics team released the map visualisation project, The colourful history of Singapore's street names, which reveals about Singapore's community, identity, and history
They gathered 3,536 Singapore streets names from geographic.org and some other resources, 69,605 Street Geojson using Openstreet API, and over 60,000 Google Maps API.
In this talk, Sujin will share her practical recipe to build overall map visualisation process; from map data collection to optimization and compression. In addition, she will talk about how they enhanced user experience on mobile with Mapbox.
📍Topic: Open up your creativity towards the future of work
📍Speaker: Dickson Tang, Author of Leadership for Future of Work
Before you can successfully roll out open-source initiatives, you need to ensure that your team & organization is creative and open-minded enough by following a simple 3-step method.
The future of work is now.
According to LinkedIn research, creativity is the number one soft skill that companies need the most.
Are you creative enough? Are you open-minded enough?
In this session, Dickson will share with you a simple 3-pillar method, so that you can build workplace creativity with ease.
- Why creativity matters in the future of business / work
- How to develop workplace creativity through mindset, environment and ideas
- The creative mindset
- How to encourage your team members to put forward creative ideas (culture of workplace creativity)
- How to generate creative ideas
- Practical examples of how businesses incorporating creativity into their operation
Dickson Tang is a keynote speaker and author. His book "Leadership for future of work: 9 ways to build career edge over robots with human creativity" was featured in media such as Forbes, Irish Tech News and "Money FM 89.3".
He also runs a training and consulting firm based in Singapore, working with professionals from Cartier, CITIC Telecom, Exterran, JVC Kenwood, Kongsberg Maritime, Mannheim Business School, Menicon, Montblanc, Wirtgen and many more. He is based in Singapore.
Dickson Tang - YouTube Channel (content, past work, testimonials) 🔎https://www.youtube.com/channel/UC2b4BUeMnPP0fAzGLyEOuxQ?sub_confirmation=1
Big thanks to our wonderful sponsor and partner! We extend our sincere appreciation to our sponsor and partner, without whom our event would not be possible. We invite you to support these community-minded companies.
⭐ Our venue sponsor - WeWork Labs
⭐ Our partner - NuSpace
NuSpace is a Coworking space in Singapore powered by Nulab.
⭐ What is Open UP Summit?
Open UP Summit is the 1st tech conference organized by Star Rocket Foundation and WeTogether.co in Taipei, Taiwan, focusing on open source projects/products and bringing tech communities together. It will be hosted from 11/30-12/1 at Syntrend, Taipei. We aim to provide you a unique conference experience by integrating global resources and developing open sources products with guided and enjoyable processes. Open UP Summit is now calling for speakers and projects, more detail about this summit please check out:
📍Location: WeWork Suntec Tower 5, 5 Temasek Boulevard Singapore 038985
📍Language: English.
📍Light refreshments will be provided.
Closed