台灣資料科學社群版聚 - 台北 October 2019
10/08/2019 (Tue) 11:00 - 13:30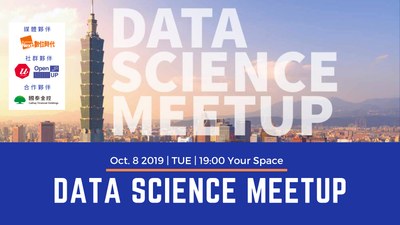 Event Information
地點:Your Space 社群空間(近國父紀念館)
時間: 10/8 (二) 19:00 - 21:40 PM (6:40開放報到)
報名後,活動現場付現金 $100,千元大鈔請先換成百元鈔再過來喔。
若是學生,請報名後於現場報到出示學生證,可免費入場。
現場會備有輕食飲料。
特別感謝 數位時代 宣傳 及 Your Space 社群空間 場地贊助,謝謝凱爾和Claire及其團隊的幫忙!
也謝謝我們的夥伴 國泰金控 數位數據暨科技發展中心 贊助餐飲!
Agenda:
06:30-07:00 場地開放 & 報到
07:00-07:10 開場
07:10-07:40 數據分析於金融業的應用, Morris Yang (國泰金控 數位數據暨科技發展中心)
07:40-08:10 Using Data Science to Acquire Valuable Users and Hook Them for The Long Haul, David Huang (Migo)
08:10-08:20 中場休息
08:20-08:50 Statistical Regression With Python, Mosky Liu (Pinkoi)
08:50-09:20 現場Q&A
09:20-09:40 Networking
Introduction of Sharing:
👉 數據分析於金融業的應用, Morris Yang (國泰金控 數位數據暨科技發展中心)
Abstract:
國泰金控積極投入金融創新應用,並致力推動集團數位轉型,3年前成立「數位數據暨科技發展中心」,協助國泰金控打造數位數據生態圈。我們以數據驅動為理念,規劃、整合集團大數據分析架構,並應用在場景金融、精準行銷、智能風險、營運決策等面向。國泰擁有1,300多萬客戶,資料量充足,可說是資料科學及大數據分析人才的夢幻場域。此次將分享為什麼選擇加入國泰數數發,金融業怎麼建立大數據架構及進行數據分析,並以實際案例說明國泰如何建立數據驅動的文化!
Bio:
Morris Yang/楊鈞傑
現職國泰金控數位數據暨科技發展中心、國泰世華銀行數據生態營運部資深商業分析師,於金融產業、管理顧問擁有8年經驗,曾任職於勤業眾信、玉山銀行等企業。
👉 Using Data Science to Acquire Valuable Users and Hook Them for The Long Haul, David Huang (Migo)
Abstract:
How can we use our marketing budgets to acquire the most valuable users? How can we detect users' recurring behaviors and what can we learn from them? How can we retain customers with higher risk to leave our product & services forever? Data science has brought many innovative solutions to answer these traditional questions. In this talk, David will share his practical experience to apply causal inference and machine learning techniques to acquire the most profitable customers and provide personalized customer experience to improve customer stickiness and loyalty.
Bio:
David Huang/黃大維
David Huang is a senior data scientist at Migo, a consumer focused innovation company addressing the digital divide in emerging markets. Before joining Migo, he work as a business consultant at Applied Predictive Technologies (now Mastercard Data & Services) where he provided analytic consulting services to leading retailers, restaurants, and financial institutions in Greater China and Southeast Asia. He is also the founder of 大鼻觀點-統計與資料科學 and co-developed the most popular business analytics online course with over 800 students in Taiwan.
👉 Statistical Regression With Python, Mosky Liu (Pinkoi)
Abstract:
We have many variables like the columns in a database, the questions in a survey, etc. Could we build a model to explain the relationships, or even predict the future values?
In this talk, Mosky will introduce the correlation analysis, OLS (ordinary least squares), R formula (an implementation in Python) to build models, covariance types, outliers, common models, and the most important thing: how to build and interpret a model correctly. Moreover, all the topics will be introduced with massive Python examples! The notebooks are available on https://github.com/moskytw/statistical-regression-with-python .
Bio:
Mosky Liu/劉依語
Mosky 是個熱愛 open source 精神的 Python 工程師,也是 Pinkoi 的 Python Charmer,工作時和同事一起打造能夠買到獨特禮物的設計品購物平台。
自從寫下人生第一支程式後,就難以忘懷以敘述為磚、邏輯為泥,堆砌出腦中藍圖的成就感,也熱愛分享自己所學,業餘時是 Python 課程講師,偶爾講點資料科學。也是數場國內外研討會的講者,包含臺灣的 PyCon、COSCUP、TEDxNTUST,以及在日本、新加坡、香港、韓國、馬來西亞等地的 PyCon。More: mosky.tw 。
Mosky has love with Python and open source, and is Python Charmer at Pinkoi, works with colleagues to build the best online marketplace for unique gifts.
Since writing her first program, she has been using programming language to script virtual worlds from mental blueprints. She also loves sharing what she learned. She is teaching Python, working on Python projects, like Clime and MoSQL, and has spoken at PyCons, COSCUPs, TEDxNTUST in Taiwan, and PyCons in Japan, Singapore, Hong Kong, Korea, and Malaysia. More: mosky.tw .
---
Event fee & Reservation

Closed