09/12/2020 (Sat) 01:00
-
09/13/2020 (Sun) 10:00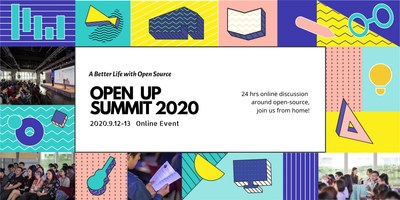 Event Information
[ English content below ]
Open UP Global Summit 是亞太第一個跨域以開源專案跟產品為核心理念所創立的科技盛會。歡迎各領域人才與開發者、設計師前來參加感受開放思維及國際社群連結,將集結海內外知名講者、專家,與國際科技社群領袖前來參與盛會並分享開源文化及實踐方式。


生活,因開源而美好
2020年將以「生活,因開源而美好」作為主題,我們相信開源的觀念並不只限於軟體的開發與使用,開源代表著更透明的大眾分享與合作、整合更多元的意見,無論是再哪個領域,都可以實踐開源精神,讓個人、產業、世界更美好。
歡迎所有人參加!
在 Open UP Global Summit 與開源夥伴交流更緊密!顛覆傳統科技盛會,融入在地「特色體驗」,拉近與夥伴間的距離!
不論你是產品設計師、產品開發者、資料科學家、產品經理、創業家,還是其他背景的專業人士或學生,只要你對「開源」有興趣,都歡迎來參加!
日期:2020年9月12-13日
地點:線上
票券資訊
票價: $1500
銀行代碼:永豐銀行 807
帳戶資訊:0330180-0009195
轉帳後請寄 Email 到 support@openup.global,內文請留下「匯款帳號後五碼」、「帳戶名稱」、「發票資訊」(二聯或三聯)。
三聯需要公司名稱及統編號碼。我們將在會場提供收據。
更多消息
主辦單位
一起網路科技 WeTogether.co
一起網路科技致力於建立一個全方位的科技產業專業人士使用的平台,透過行動裝置整合素人達人影音及社群互動的影響鏈,為求職或轉職的人士提供一個簡便的連結點,也讓素人達人得以在產業界增加影響力及知名度。社群活動會讓產業中不同工作崗位的人有機會一起完成專案,一起成長與成功。
三創育成基金會
Star Rocket:三創育成是專為對創新科技產業有興趣的人而生的創新基地,由三創育成基金會成立。不同於一般的育成空間,我們更專注於人才與科技素養的培育。在 Star Rocket 的火箭上,我們帶著人們探索創新邊界,啟發人們踏入創新航道,製造更多交流,讓人與人之間的互動,帶來更多創新的可能。我們的長期目標,是成為孵化開放文化的產地。作為一個培育人才的創新基地,我們更想創造、推廣是一個自由的創新開放文化。
主辦單位保有修改、變更或暫停本活動之權利,如有未盡事宜,悉依主辦單位相關規定或解釋辦理,並得隨時補充公告之。
[ English content below ]
Open UP Summit is the first tech conference organized by Star Rocket Foundation and WeTogether.co, focusing on open source projects/products and bringing tech communities together. We aim to provide you a unique conference experience by integrating global resources and developing open source products with guided and enjoyable processes.
2020 Theme:
A Better Life with Open Source
In 2020, Open UP Global would like to invite you to think with us about how "A Better Life with Open Source" could be. During the two days summit, developers, technologists, scientists, and entrepreneurs convene to collaborate, share information and learn about the latest in open technologies.
EVERYONE'S WELCOMED!
Open UP Global Summit is a bilingual conference! No matter you are product designers, developers, data scientists, product manager, founder or even students, we fully welcomed you to join Open UP Global Summit!
Date : September 12-13, 2020
Location : online
Ticket
Please wire event fee of $1500 TWD to Bank code: 807 and Account number: 0330180-0009195. Then email your last 5 account numbers to us: support@openup.global.
More Information
Go to the openup.global to get more information. Follow our Facebook Fanpage!
Organizers
WeTogether.co
WeTogether means we are together. In the journey of career growth, we are bound to meet people who could become our role models, someone who is willing to be our mentor, to share their know-how with us, so we can achieve our goals without stumbling unnecessarily. No one can succeed by fighting alone. WeTogether wants to become the hub of your career development, so we can all grow together.
More detail: https://www.wetogether.co/
Star Rocket
We honor people who create innovative things and tell stories about them. Star Rocket, a.k.a. SYNTREND Incubation Foundation is a nonprofit organization which is committed to building the most open incubation center and space for technology innovation. By providing innovation-related curricula, co-working space, and curated events, we connect people and local communities that always care about innovation from both a technological and design perspective. Also, we track people's stories of innovation through content production to put it a dent in the universe.
More detail: https://www.starrocket.io/
---
Event fee & Reservation

Closed